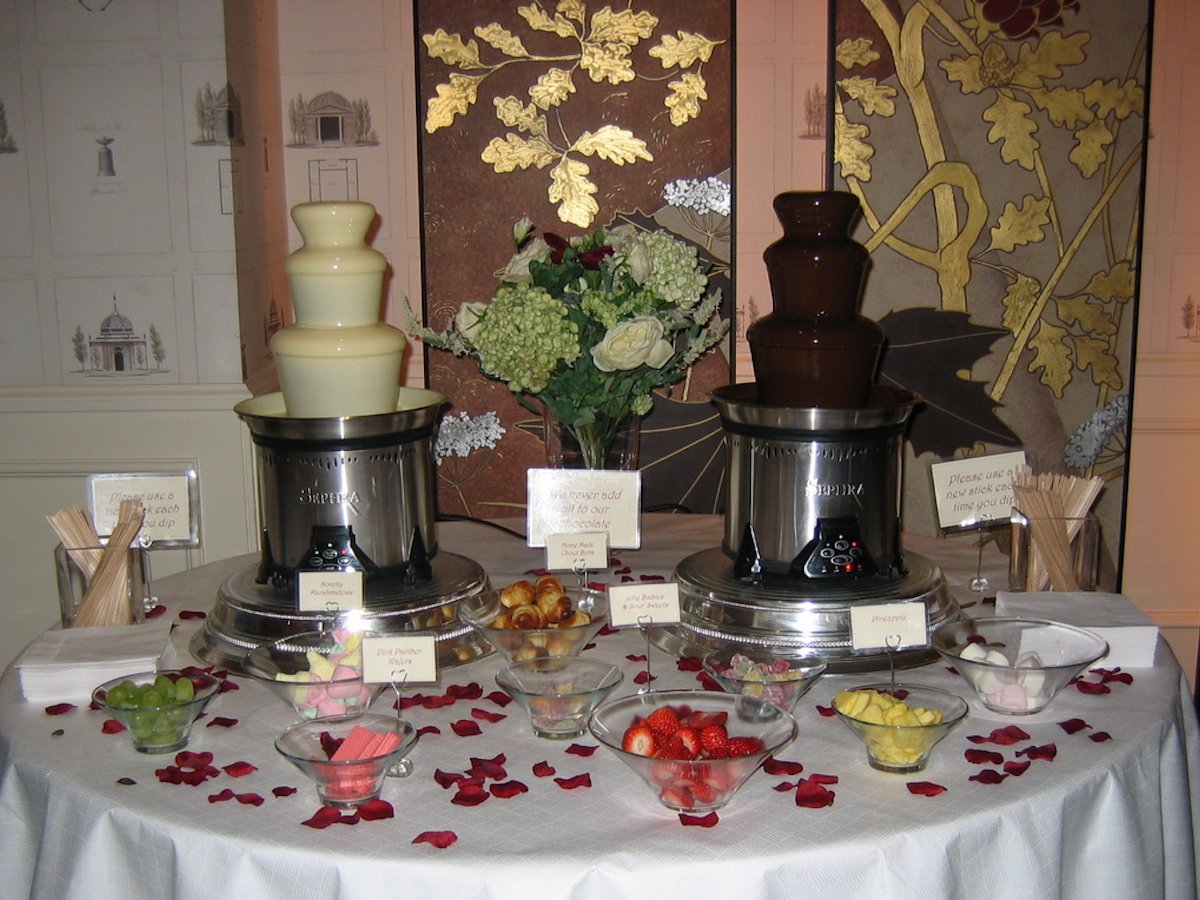 Platinum | Gold | Silver | Bronze
This package is great for those of you on a tight budget. It offers you and your guests two different flavours of chocolate to choose from.
We will come to your event with the fountains, set them up and the display for the table. This option is usually attended by one of us and we will wear a smart uniform as usual. We will not however, stay after 11pm unless previously arranged. We then:
Supply two 19" three tier Sephra "Elite" fountains
Supply 5kg of luxury Belgian chocolate (milk, dark or white)
Supply eight varied dipping foods
We serve chocolate for up to two hours
Provide skewers & napkins
Replenish the dipping foods and chocolate as required
Keep the area clean & tidy
Assist guests in the use of the fountain
We will dismantle the fountains after use and clean up afterwards
If requested, any chocolate left in the fountain and any unused dipping foods will be left behind for your guests to enjoy after we leave
Normally feeds up to 60 guests
We will travel up to 45 minutes from our home to your venue
The cost includes all the above for up to 60 guests. Download brochure
Total cost £295
(Some chocolate flavours and colours cost extra)
If you are having more guests than this package normally provides for, we also offer an "Enhanced Silver" option. This is similar to the above but caters for 100 guests and offers unlimited dips, unlimited chocolate and 10 dips for the price of £330.
Two hours will be plenty of time for your guests to enjoy the chocolate. In our experience (and we have served thousands of people at hundreds of events), as the evening progresses people have their fill of chocolate and become more interested in dancing and drinking later on.
To theme your event, we can colour chocolate to almost any colour you want - imagine the possibilities! (there is an extra charge for this option).
If you are still unsure who to use for your chocolate fountain or need any advice, please feel free to contact us.
Please note that we do not charge any extra VAT or travelling costs on top of these prices.